Another week.. another #bloggerblab... This one was one for the books! We had quite a few new faces and it was so much fun to see everyone connecting! That's probably my absolute favorite part of Twitter chats and why I love co-hosting #bloggerblab so much... I mean and my co-hosts are kind of amazing... But I actually had the greatest time chatting with everyone. Wednesday was my first day of sophomore year, and AP World History and Geometry don't exactly get you too pumped up for the rest of the day. But I made it through, and yesterday was day two and as your reading this.. I'm at school for day three!
#bloggerblab changed my entire mood, Wednesday night. Thanks to everyone who hung out with Jamie, Nicole, and I -- we seriously love hosting this so much!

*So Twitter isn't letting me embed tweets.. which sucks.. So I'm just gonna sum up the main events.. include questions, the response we got, and if you're interested in following the #bloggerblab gals... Go check the hashtag!
LEMME TELL YA WHAT WENT DOWN
@ fashionnewcomer asked the first question:
What is your favorite desk/organizational item?
~different colored pens p.s. yes color coded pens are STILL a thing.. Right Nicole?
My favorite item is a bowl sort of thing that I made in art last year.. It holds stationery, little trinkets, pencils.. whatever!
@ empire_styles asked the next one:
Do you decorate your desk with a certain aesthetic/theme?
~Rebecca said "
I don't really decorate my desk with a certain theme, just with general things I like that help me keep organized"
~Sarah Beth told us what she does instead!
I don't have a desk but I do have my desk trey that I kept with a magenta and blue color scheme!
~Here's my answer: "
I've said it before and I'll say it again! My aesthetic is myself, and my desk TOTALLY reflects that!" --post to come at some point about how it's possible for my aesthetic to be myself.
~"

I'm going for a natural woods, whites, and teals kind of vibe in my new workspace."
~"
Yes. Everything in my room has clothing on it - my desk is no exception." Guess who said it?? Yep, Brooke.. Brooke is bae
~"
maybe one day when I have my life together..." couldn't agree more
~"
Not really! I try to keep it clean & organized, but I can't stick to one theme/aesthetic. My tastes change too often!" says Amelie
Then there was the third question.. asked by yours truly!
Where are your favorite places to buy desk accessories?
~T.J.Maxx of course -- would we even be real bloggers if we didn't say TJ?
~oh yeah.. and Target came up.. did you know that Target isn't in Canada? How sad is that!
~ I love how Sarah Beth said it "A
nywhere that has pretty stuff. I mean I could be in Walmart and get something. If it's pretty, its pretty."
Southern accents came up... A few times... TBH my super southern accent only comes out when I get insanely ticked off at someone.. or when I'm really excited. But when I say "South Carolina" there is no doubt that I'm from the south.
Then we learned just how amazing Cristina is... She can shop at T.J. Maxx AND chat @ Blogger Blab
"I am currently at TJ maxx and they have some great stuff! I also like ban.do and kate spade!

"
We love you #reasonswelovebrooke
If you don't have a desk, do you still buy desk decor? If so, how do you style?
Sarah Beth says... "
Yes! I still have pencil cups and pretty journals galore! I tend to style them around my room."
Lauren told us that "
I do but I find other ways to use it. Like we have storage cubes from Target so I put things up there or in the cubbies"
"in my room at my parents house, I use pencil cups and magazine holders, etc. around my room and in the kitchen!"
Where in your room is your desk?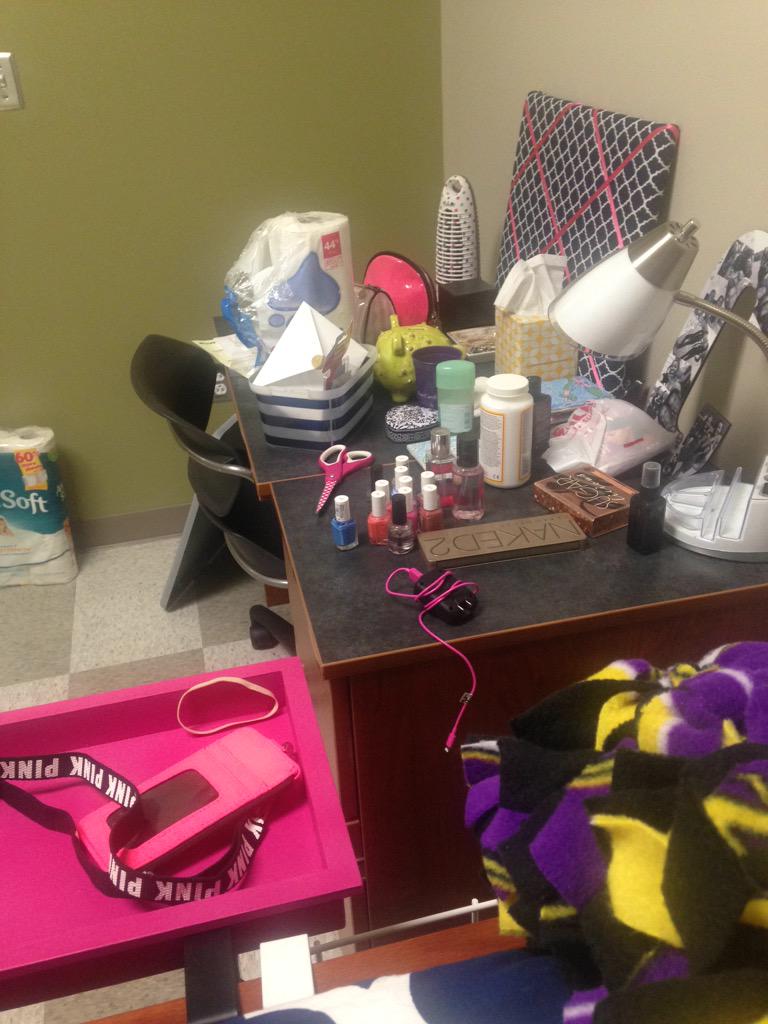 Cierra of Best of Lemons -- don't judge messiness we've all been there
Brooke told us where her desk is: "

by my bathroom, is that weird? lol nah."
Rebecca reminded us of how important it is to have your desk near natural lighting.. "
My desk is right by my window to let in some natural light, also because that's just where it fit in my room"
"My desk is currently upstairs in pieces inside an ikea box. 17 days till moving day! Eeeeeek :D" Good luck Melissa with all your moving adventures!
Desiree says : "
At home it's facing my window, and at school it faces my wall!"
Because of the whole Target doesn't exist in Canada thing.. I don't think many of our #bloggerblab girls are moving up north anytime soon......
"
Target, may I have your autograph? *hands you one of your own pens and a pad of your own paper" ~Brooke #reasonswelovebrooke
Melissa likes some accents of more fun colors: "
White on white on white. I love white a little too much. Then some woods and mint/turquoise accents"
But if you're Brooke, you call it "tree color"
How do you store and file old papers?
Julianna talked binders: "
I hoard binders (it's a HUGE problem), so I keep everything in there!"
While others talked about computers and shelves...
"I AM NOT ORGANIZED AT ALL SO IDK WHERE MY PAPERS GO... MAYBE SOMEWHERE OVER THE

" ~ Myself
accordion
folders, folders, google docs, notepads, ect. ect. ect. I love learning so much about everyone based on their answers!
Then we talked desk chairs....
leather chair love... and WHEEEEELLLLLLLSSSSSSS
Do you have a cork board, memo board or whiteboard behind your desk? How do you use it (to-do's, inspiration etc)
"
I have a cork board and I use it for everything under the sun. I love colourful sticky notes." Melissa
"
cork boards for inspiration and whiteboard for to-do lists! " Julianna
P.S WE TALKED CACTI AND MY YELLOW CACTUS IS NAMED LINCOLN JUST FYI! Melissa's CACTUS IS HARPER AND THEN LAUREN TOLD US THIS AWFUL STORY ABOUT HOW HER CACTUS DIED AND I WAS TEARING UP NOT GONNA LIE
how adorable is Julianna's pencil cup?!?
Live the prep life Brooke became the pink lyme brooke's mini me!!
AND THIS IS ONE OF THE MOST UNORGANIZED POSTS HERE ON CLASSY CATHLEEN.. BUT THAT'S THAT! COME JOIN US FOR #DIY WEEK ON #BLOGGERBLAB X #BLOGGERSBTS ON WEDNESDAY AT 8:45 PM ES
T